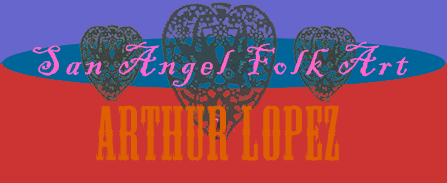 Click here for past exhibits in the art gallery of San Angel
Branches and Roots: Trees of Life from Across the Globe
In San Antonio, where San Angel houses its gallery, the tree of life, or arbol de vida, is generally thought of as a Mexican tradition; however, trees have often served as central and binding metaphors for artists from across the globe. This show examines how the gallery's many renowned artists have incorporated tree representations into their works and how those works respond to life. A Frida Kahlo depiction by famed New Mexican Santero Arturo Hernandez, recreates Kahlo's own use of the tree to show her connection to the earth and to history. Tennessee carver Shane Campbell builds trees of wisdom, adorned with sayings and crows, the shape-shifters and tricksters of Native American legends. Campbell's words on the trees are often wry and ironic commentaries on human's desires and inability to re-create endemic lives through consumption. Tin worker, Jeri Moe builds tree altars with small homage's to love and romance; much like Campbell, her trees are adorned with birds, who represent the flights of imagination and desire.
About Us | Artists | Art | Links | Map
Home | Email Us
San Angel Folk Art Gallery
Voted "Best of San Antonio's Art Galleries" &
"Best Folk Art Collection in the U.S."
110 Blue Star
San Antonio, TX 78204

Located in Southtown
less than a mile from San Antonio's downtown attractions,
the Riverwalk and the Alamo

San Angel Folk Art

Create Your Badge

(210) 226-6688
info@sanangelfolkart.com

© 2007. All rights reserved.