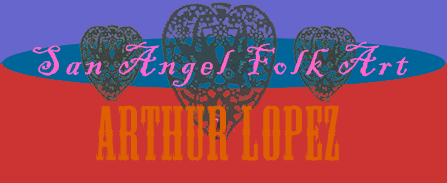 Click here for past exhibits in the art gallery of San Angel
(b. 1944; Winnsboro, LA)
Isaac Smith is one of the most prominent African-American visionary artists in the United States today. Throughout his childhood, Smith explored the bayous and studied the wildlife of his native Louisiana. At the age of 10, he saw a man carve an unbroken chain out of a single broomstick; the future artist immediately took up the knife to carve one himself. For the next twenty years, he whittled in his free time and during periods of unemployment. For the last three decades, Smith has carved and painted wildlife full-time. He is a prodigious creator, forever exploring nature through his work.
Smith claims that his animals belong to a single kingdom, one which he will occupy and share upon his death. Smith carves his creatures anatomically correct; he creates them in mated pairs, and/or gives them offspring. In "Black Folk Art and the Politics of Folk Art" (1982), anthropologist Gene Metcalfe describes artists' references to otherworldly qualities as a remnant of "communal aesthetic whose workings go beyond rational understanding and knowing." Kingdoms, much like spirit-driven works, express a long tradition of community beliefs and interactions.
Smith's work has been collected and studied widely. The Billy R. Allen Folk Arts Collection at the Dallas African American Fine Art Museum, which consists solely of Smith's work, represents the largest museum collection of any African American artist in the world. Six of Smith's works are in the "western White House" in Crawford, TX. His carvings have also been featured in Spirited Journeys (1997) and Pictured in My Mind (1995). San Angel Folk Art has represented Smith's work since 1999.
About Us | Artists | Art | Links | Map
Home | Email Us
San Angel Folk Art Gallery
Voted "Best of San Antonio's Art Galleries" &
"Best Folk Art Collection in the U.S."
110 Blue Star
San Antonio, TX 78204

Located in Southtown
less than a mile from San Antonio's downtown attractions,
the Riverwalk and the Alamo

San Angel Folk Art

Create Your Badge

(210) 226-6688
info@sanangelfolkart.com

© 2007. All rights reserved.