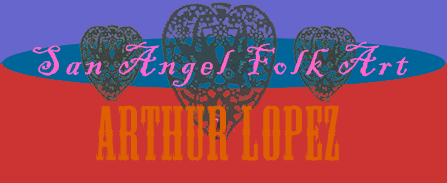 Click here for past exhibits in the art gallery of San Angel
Handmade Gift Show.

Fashioned after a Victorian curiosity shop, San Angel is literally stuffed with amazing, handmade works, and we know how to find the perfect gifts. Come by, name a price point, and tell us about the lucky recipient, and we'll find a one-of-a-kind (or set of six) present, whether it's hand painted champagne flutes by Jon Karl Dawson, an angel by Irene Aguilar, a nicho by Kanned Hamm, or an antique huipil from our museum quality collection. We'll also treat you to our special folk art wrapping, which will really help your work stand out below the tree!
About Us | Artists | Art | Links | Map
Home | Email Us
San Angel Folk Art Gallery
Voted "Best of San Antonio's Art Galleries" &
"Best Folk Art Collection in the U.S."
110 Blue Star
San Antonio, TX 78204

Located in Southtown
less than a mile from San Antonio's downtown attractions,
the Riverwalk and the Alamo

San Angel Folk Art

Create Your Badge

(210) 226-6688
info@sanangelfolkart.com

© 2007. All rights reserved.