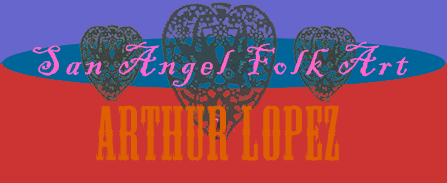 Click here for past exhibits in the art gallery of San Angel
Discarded linoleum and vinyl flooring is reclaimed as a medium for the artwork of Bill Miller.
Creating an effect that lies somewhere between collage and stained glass, Miller's innovative use of the linoleum's pattern and color is his signature style.
Miller's work has been recognized for rendering narrative moods and a sense of common memory. His unexpected use of patterns taps into the medium's nostalgic familiarity striving to impart a sense of history and story within each piece.
Miller has exhibited his work in exhibitions across the United States over the past 10 years. Initially showing paintings in oil and acrylic, Miller began working with recycled materials as a founding member of Pittsburgh's Industrial Arts Co-op, constructing large-scale sculptures made of scrap materials in abandoned industrial sites.
About Us | Artists | Art | Links | Map
Home | Email Us
San Angel Folk Art Gallery
Voted "Best of San Antonio's Art Galleries" &
"Best Folk Art Collection in the U.S."
110 Blue Star
San Antonio, TX 78204

Located in Southtown
less than a mile from San Antonio's downtown attractions,
the Riverwalk and the Alamo

San Angel Folk Art

Create Your Badge

(210) 226-6688
info@sanangelfolkart.com

© 2007. All rights reserved.