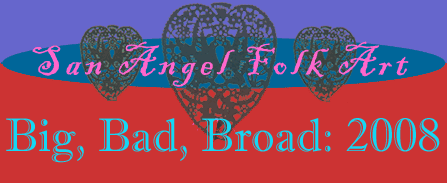 Click here for past exhibits in the art gallery of San Angel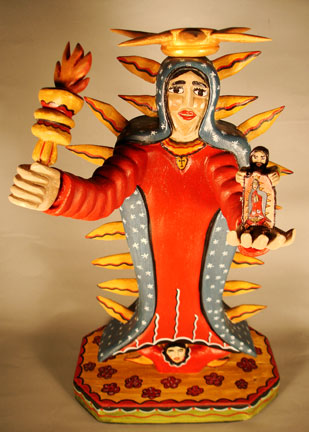 The Big Mama of all of Mexico, Virgin Guadalupe by Santero Nicholas Herrera shows the Virgin cradling Juan Diego in her hand. SOLD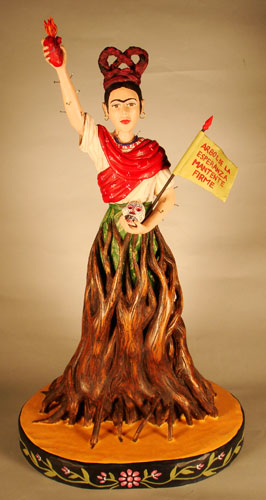 Carver Arthur Lopez does an amazing turn on the Statue of Liberty with a corazon and calavaca in her hands with sinewy roots of a tree climbing up her body.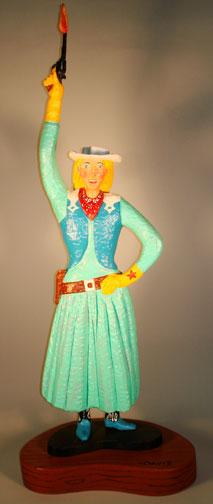 Even Cowgirls have Liberty when a 6 shooter is involved. A wonderful homage to Lady Liberty, Texas style, by Keith Davis. SOLD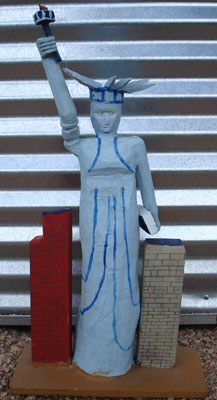 Lady Liberty stands strong in rememberance of Sept. 11, 2001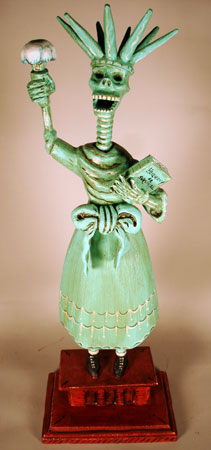 Carver, Chris Maya shows us an apocalyptic Statue of LIberty with a pretty sash around her waist, all is not lost if you take the time for a nice skirt and a pretty sash!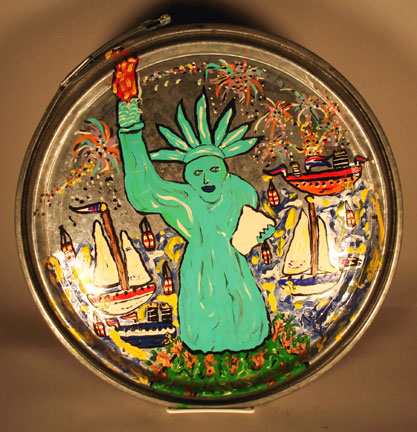 Enrique Verde shows the love for his Liberty with fireworks and sailboats in NY Harbor.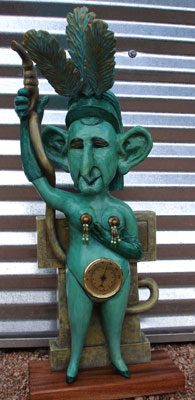 Global Warming and Bush have never looked so good. By Mississippi carver, Chad Poovey. SOLD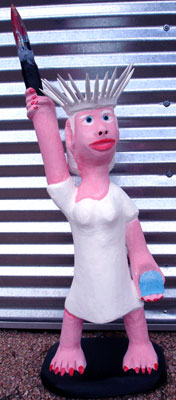 Isaac Smith does it again with his Big Bad Broad. SOLD

Joe McCuaig carved a Statue of Liberty that means business. SOLD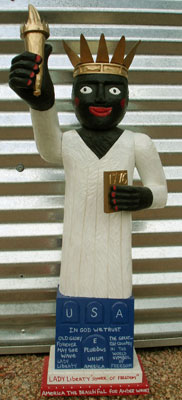 Shane Campbell shows that the United States is a proud country of immigrants. Let's not forget that!!!
SOLD
About Us | Artists | Art | Links | Map
Home | Email Us
San Angel Folk Art Gallery
Voted "Best of San Antonio's Art Galleries" &
"Best Folk Art Collection in the U.S."
110 Blue Star
San Antonio, TX 78204

Located in Southtown
less than a mile from San Antonio's downtown attractions,
the Riverwalk and the Alamo

San Angel Folk Art

Create Your Badge

(210) 226-6688
info@sanangelfolkart.com

© 2007. All rights reserved.